The StuZ PC Pool
In the StuZ there is a PC pool with 6 PCs and color laser printer incl. scan unit. Of course, there is W-LAN in the StuZ pool.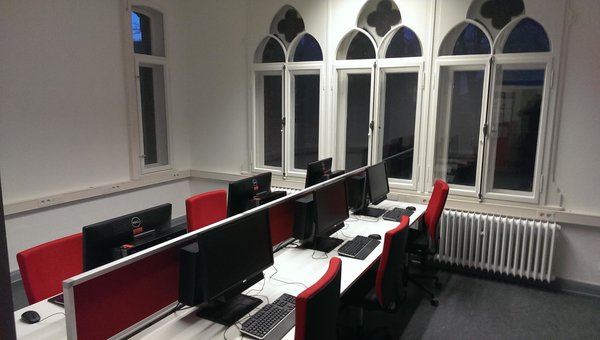 To be able to print in the PC-Pool, please read the instructions, which are available in German and English in the PC-Pool.
You can print black/white and color on 90g/sqm A4 paper or on 80g/sqm A3 paper. By default, the printer is set to auto color (only color pages are printed in color and charged to color pages) and duplex (both sides of the paper are printed). You can print your own paper via the printer's stacking sheet tray.
With the multifunction device's scanner, you can save documents or books to a USB stick or send them to an e-mail address. The USB stick must not be formatted as NTFS, but must be formatted as FAT32 in order to be recognized.
During the service hours you can also load print credits at the AStA.